Dalbeattie Museum
Christmas Window Competition 2013
Dalbeattie Museum did it again this year by winning the Christmas Window Competition. Dalbeattie Initiative runs this competition each year.
We are proud to have the cup back in our window for the third year running.
Our window this year was designed and constructed by our Wednesdays Boys Club.
Jack, Tommy, Tommy, Billy and Glen have done us proud….and here's hoping Jack gets his wish of Chocolate Biscuits with the chocolate on the bottom and not on the top this year from Santa!
 -----------------------------------------------------------------------------------------------------------------------------------------------------
Our New 2014 Syllabus is ready!
and
It's that time of year again to pay your subscriptions!
The money raised in this way helps us to improve our museum year on year.

Our membership remains at £5:00 
                   Concessionaries £2:50

Thank you!
Dalbeattie Museum has changed some of its Open Meetings to an afternoon, to try and encourage more people to come along. They will still be held in the Parish Church Hall but at a new time of 2pm. 
We try very hard to bring new and diverse speakers to our meetings. Our meetings are free and open to all... so make your New Years Resolution is to come along to Dalbeattie Museums open meetings in 2014!
Dalbeattie Museum is now shut for the winter months. This lets us prepare for the 2014 season.
We hope you enjoy our Christmas Window in the mean time.
Dalbeattie Museum shall open on April 1st 2014
It was with great pride that we announced in 2013, that we had been open for 20 years. Our proud museum has gone from strength to strength due to the hard work of our volunteers..
It was through this grey door that Dalbeattie Museum began.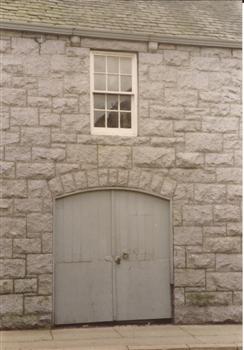 With a very loyal band of volunteers.
 We celebrated 20 years by holding a cheese and wine in the museum on Saturday 30th March.