Dalbeattie Museum
Its time to renew your subscriptions. Please go to our News page for more information
-----------------------------------------------------------------
DALBEATTIE MUSEUM HAS BEEN LUCKY ENOUGH TO BE LOANED ONE OF THE POPPIES FROM THE TOWER OF LONDON INSTALLATION.
CREATED BY ARTIST PAUL CUMMINS AND TOM PIPER, 888,246 CERAMIC POPPIES FILLED THE MOAT BETWEEN JULY TO NOVEMBER 2014.
THIS YEAR's MAIN EXHIBITION WAS ABOUT THE LOCAL RAILWAY LINE – "THE PORT ROAD" OR SOMETIMES REFERRED TO AS "THE PADDY LINE".
 THIS LINE RUN FROM DUMFRIES TO STRANRAER AND WAS ONE OF THE MAIN LINKS TO NORTHERN IRELAND VIA THE FERRY.
 OPENED AS FAR AS CASTLE DOUGLAS FROM DUMFRIES IN 1859 UNDER THE OWNERSHIP OF THE CASTLE DOUGLAS AND DUMFRIES RAILWAY COMPANY. DALBEATTIE STATION WAS BETWEEN THESE TWO TOWNS.
 IT JOINED UP WITH THE PORTPARICK AND WIGTOWNSHIRE JOINT RAILWAY IN 1861 AND RAN UNTIL IT'S CLOSURE FROM THE BEECHING CUTS ON JUNE 14TH 1965.
 THE MUSEUM HAS AN EXHIBITION OF RAILWAY ARTIFACTS AND PHOTOGRAPHS. 
Reflections of Old Dalbeattie    
Our exciting new DVD has been launched. It is called
"Reflections of Old Dalbeattie".
Tommy Henderson reflects on some of Dalbeattie's history and along with his commentary are old pictures of Dalbeattie.
This DVD costs £5:00 and all proceeds go towards the running costs of our museum.
If you have not visited the museum, then this year put in on the top of your "to do" list and spend an hour or two reminiscing.
A warm and friendly welcome awaits you at Dalbeattie Museum.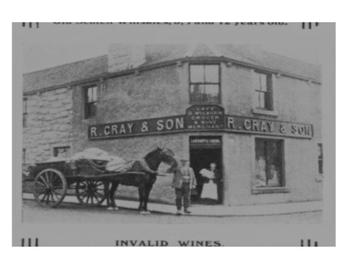 Charity No SC003247     Company No 118995